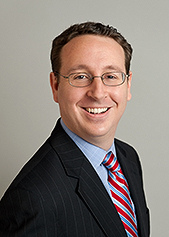 Thomas R. Villecco is an accomplished appellate attorney who has achieved a wealth of experience. After graduating law school, Tom commenced his legal career at the Bronx County District Attorney's Office, where he spent the bulk of his tenure in the Appeals Bureau. There, he refined the art of crafting sophisticated legal arguments through crisp prose and vivid, persuasive storytelling.
Honing his appellate skills, Tom secured victories in complex cases with significant policy implications. In Brown v. Ercole, 252 Fed. Appx. 518 (2d Cir. 2009), Tom obtained reversal of a District Court order by a panel of the United States Court of Appeals for the Second Circuit, thereby insulating scores of depraved indifference murder convictions statewide from collateral attack in federal court.
Tom also authored the winning brief in People v. Alexander, 19 N.Y.3d 203 (2012). In a narrow 4–3 decision, the New York Court of Appeals held that the motion court's conditioning the defendant's plea on the withdrawal of his constitutional speedy trial claim did not run afoul of the Court's long-standing precedents in People v. Blakley, 34 N.Y.2d 311 (1974) and People v. White, 32 N.Y.2d 393 (1973).
Before opening his own appellate practice boutique, Tom rounded out his legal experience by working at a prominent civil litigation firm in Garden City. Tom graduated from Hamilton College, receiving a B.A. in Economics, and earned his J.D., cum laude, from Pace Law School. While in law school, Tom served as a Note and Comment Editor to the Pace International Law Review in which he authored the article "Reconciling Globalization and Extraterritorial Application of the Lanham Act: An Analysis of McBee v. Delica, Co.", 18 Pace Int'l, L. Rev 455 (2006).
A Nassau County resident, Tom is a member of the Nassau County Bar Association, New York State Bar Association, and the New York State Trial Lawyers Association. He is admitted to practice in New York, Connecticut, the United States District Court of the Southern District of New York, and the United States Court of Appeals for the Second Circuit.